Every Door Direct Mail (EDDM) is a method of USPS bulk mailing that is more cost effective than traditional mailing because of a lower postage rate, requires no address list and is easy to target the geographic area and/or demographics that make the most sense for your business or organization.
We recommend that you familiarize yourself with the process before starting your EDDM project.
Start Your Every Door Direct Mail (EDDM) Project
How does Every Door Direct Mail work?
Using the USPS Map/Route tool, you simply pick which geographic area and USPS carrier routes you want to target.  For instance, if you own a salon and want to send an advertising piece in the mail to all residents living within a 1-mile radius of your shop, you will select all carrier routes within this area.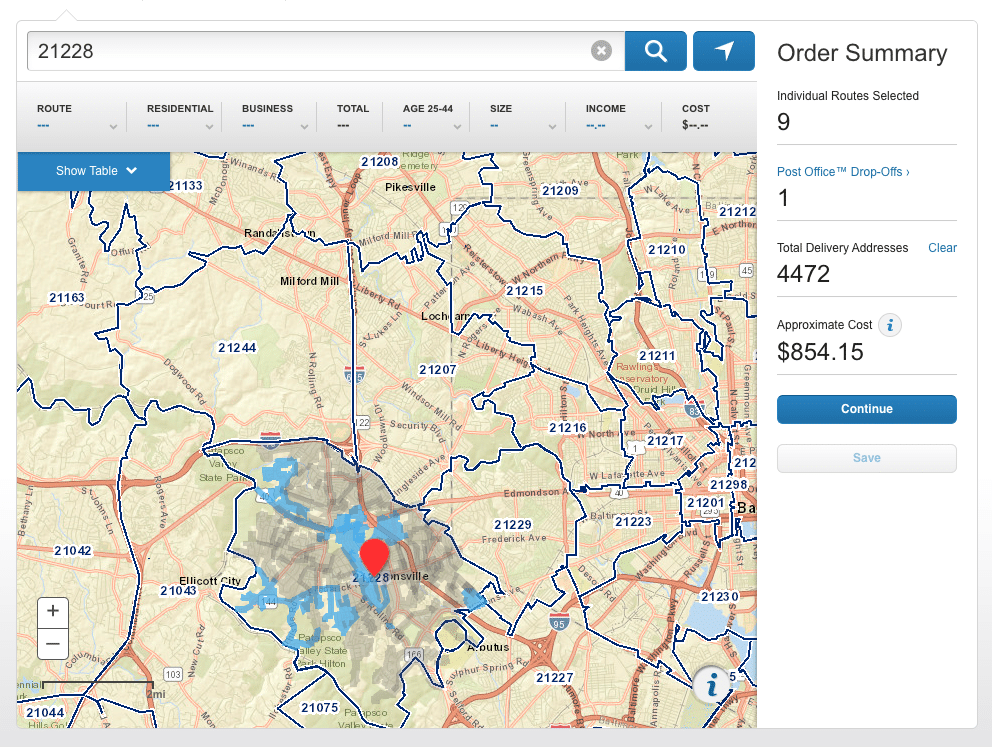 Are there any restrictions?
Every Door Direct Mail is not limited to any specific industry or client type or address type (residential or commercial).  Anyone can send out an EDDM mailer to any geographic area.  However, there are a couple of restrictions.
There is a 200-piece minimum. In other words, you must select enough carrier routes to total at least 200 addresses.
EDDM mail pieces must follow certain size restrictions/guidelines. For your convenience, Indigo Ink has narrowed down the options available using the most cost-effective sizes that meet USPS specifications.
How do I pick my routes?
You will select your routes using the USPS EDDM Mapping tool.
Click here to access the USPS EDDM Mapping Tool.Enter an Address, City, State or ZIP Code to narrow the map down to your area of interest.   In the example below, I selected 9 carrier routes.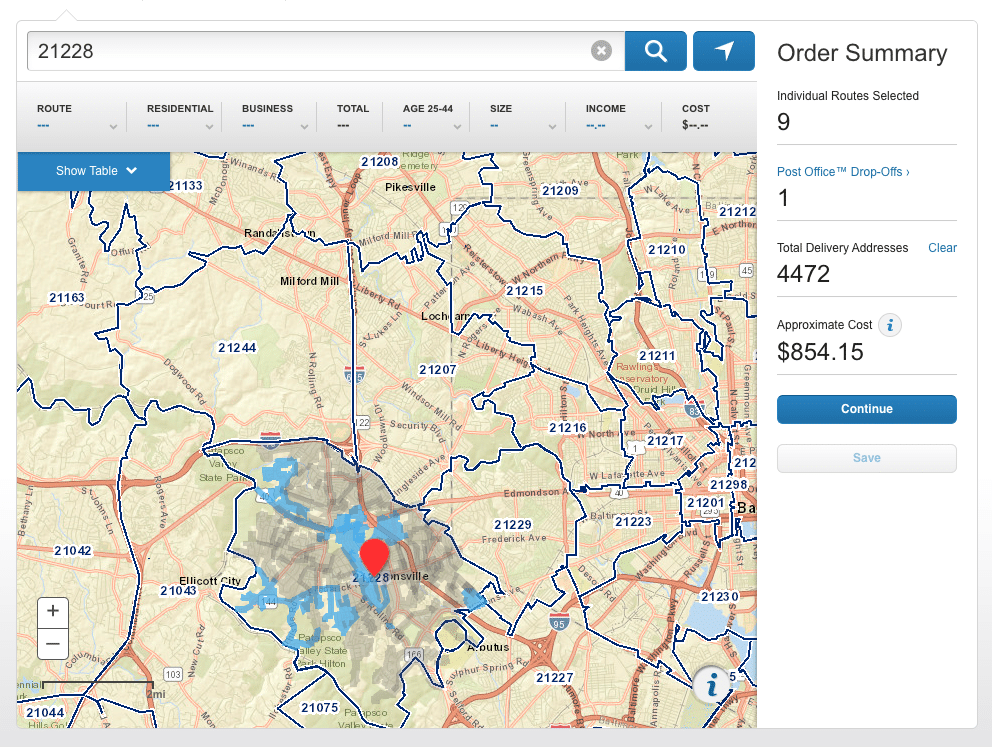 When placing your EDDM order, you will need to provide the carrier route numbers to us.  To see the carrier route numbers, click on "Show Table" in the upper left corner.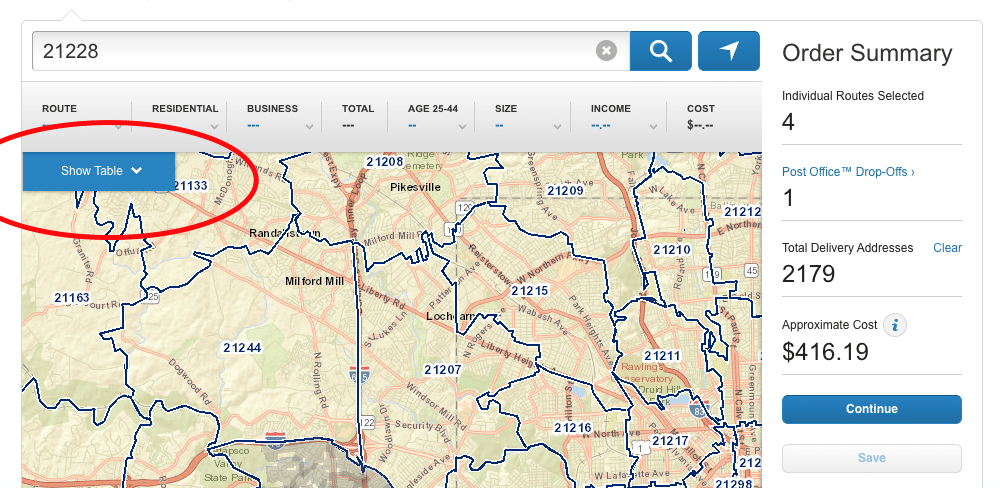 Write down the carrier route numbers highlighted in blue. You will need this information to process your EDDM order.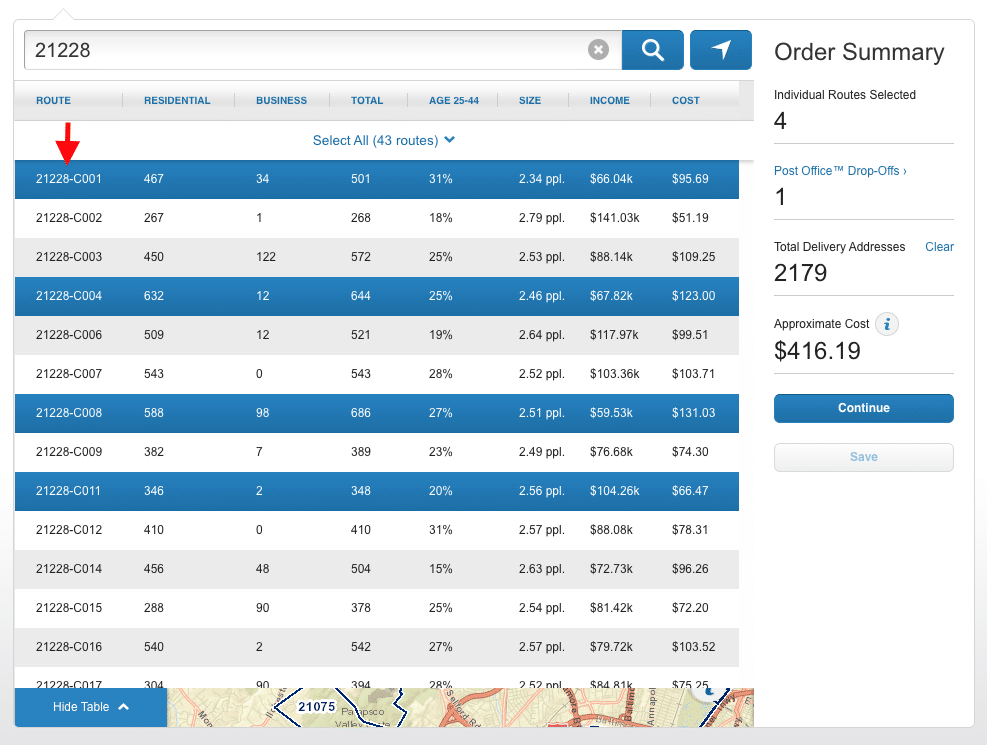 (Note: "Approximate Cost" is the USPS estimate for postage cost)