Annual Stream Clean Up
Indigo Ink's community commitment team (Mt Indigo) annually host or participates in a local stream clean up.
Employee Paid "Volunteer" leave
In addition to personal leave, we provide our employees with an optional one week of paid time off to participate in a community, humanitarian, environmental, or faith based service of their choice.
Support of "Fair Trade"
We support the cause of "Fair Trade" by purchasing "Fair Trade" coffee provided to our employees for daily use, and by purchasing "Fair Trade" coffee, chocolate, and teas for customer appreciation gifts and marketing efforts.
Follow us on facebook for the latest news and pictures of our team participating in environmental and humanitarian projects.
Stewardship…
Indigo Ink Digital Printing strives to be environmentally and socially conscious in every action. Green practices are employed in our daily operations including how we print, finish and deliver orders. Volunteering in the community is encouraged among associates.
Indigo Ink Volunteerism in the local community and abroad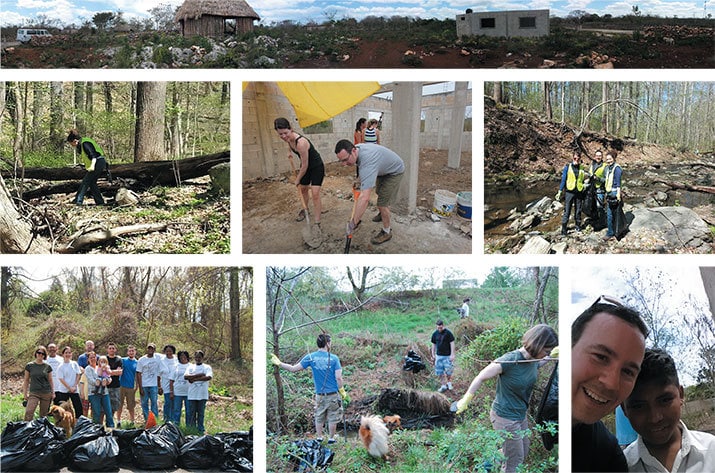 Turning Over A New Leaf
April 13, 2018 by Indigo Ink | Eco-Conscious Printing, News
Tagged: Green Printing | sustainability
Indigo Ink's community commitment
I love the outdoors and earths wild places. This is where I play. It is where I feel the most alive and spiritually connected. Naturally, it follows that I have a deep concern for preserving our wild places and for the impact humans have on our planet and all living things. Although it can be overwhelming, the more I learn about the impact we have, the more I am driven to act in the ways that I can.
One of those ways was to start doing some research on sustainable (or at least aspiring to be) printing practices. When I learned about the Forest Stewardship Council and the positive difference they have been making in sustainable forestry practices, it seemed like a no brainer to only purchase FSC certified paper stocks. At the time, however, very few digital paper stocks were available. It took several years and many persistent inquires with our paper reps to get us to the point of near 100% FSC certified house stocks (our non-wood based stocks are not FSC certified). Thankfully, we've come a long way.
However, his was just the beginning of our journey towards sustainability. My gut was telling me (and still is) that we were just scratching the surface. As I continued doing research I stumbled upon an interesting logo inside the cover of Conscious Business Magazine. It was something called "Print Releaf Certified." I looked them up online and discovered that this was a way to basically "offset" printing by planting the equivalent number of trees used. Intrigued, I reached out to them to find out more. Turns out, this was a new start up venture that had created a software platform designed to track and calculate paper/tree usage. They partnered with reforestation projects around the world. Participants in this new system can choose which reforestation project to fund with the calculated fee based on paper usage.
When we first partnered with PrintReleaf, we set the system up as a value-added service for our clients to have the option of "print releafing" their jobs. However, we quickly decided that, given how important this is to us, rather than going through the process of convincing our clients to do this, we should automatically "print-releaf" all jobs run in house every month. We have been "print releafing" all jobs run in house on our HP Indigo and Black&White Presses since the summer of 2016. This has been a very minimal financial investment but has resulted in over 2,700 trees planted (at the time this article was printed) in reforestation efforts in Madagascar and the U.S. (the Pine Ridge Indian Reservation in South Dakota).
As our journey towards sustainability continues, we will be focusing our efforts on efficiency and waste reduction. It has been exciting to see this effort grow and I personally feel fortunate to be a part of it.
Liz Richardson
Co-Founder, Indigo Ink Digital Printing, Inc.