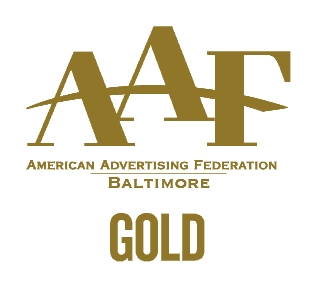 As a testament to our belief in the power of custom design and marketing, we've pushed our own corporate communications to be more targeted, more resonant, and more creative over the past few years. There's a time and place for design templates, but to create the type of marketing that has maximum impact, our faith lies in graphic designers and creative professionals.
Along with this commitment to the power of design, we've also extended our support to professional marketing and design associations, specifically the American Advertising Federation Baltimore Chapter. Each year, the AAF's annual Addy Awards event recognizes the very best in marketing and design. For consecutive years, Indigo Ink has printed signage, produced specialty program books, and placed ads within the program. But this year, we took an additional route to supporting the industry by submitting our own marketing campaign designed to showcase our capabilities.

We're extremely proud to announce that we've won an AAF Baltimore Gold Addy in the category of Sales: Direct Marketing for the "Indigo Ink Digital Printing Research & Development" campaign. The campaign celebrates our newly developed in-house production techniques that we had been busy experimenting with and developing over the course of 2017–2018. These unique techniques include soft touch laminates, digital foil stamping, spot gloss finishing, and enhanced paper stock textures to name a few. Notebooks, cards, a calendar, and a variety of print ephemera housed in a box all served to showcase "Ideas Worth Printing," the thematic approach to the campaign that celebrated the beauty of our new capabilities and the ideas that are worthy of them.
Collaboratively working with local design firm Black Birch, we imagined a faux R&D print lab that allowed us to portray fictional and absurd production elements—auditory swatchbooks, anti-gravity foil, bioluminescent inks, re-applicable UV coating, regenerative paper stocks. These "failed" experiments served as the humorous counterpoint to our new capabilities and were illustrated in each month of the calendar.
Additionally, we developed "Ideas Worth Printing" notebooks that featured our successful experiments (foil stamping, textured papers, laminate coatings) and encouraged our audience to develop their own ideas that could eventually come to fruition with Indigo Ink.
Our ultimate goal was to inspire creativity in the year ahead, experiment with new ideas, and share our mutual belief that 2018 was a time to be visionary.
Along with a fantastic ceremony and an evening of creative camaraderie, we humbly thank the AAF for graciously honoring this work among the select field of inspiring award winners. The recognized work reaffirms our belief in the potency of creative communication.