Great service takes time, and one of our dedicated Project Managers will always be available to discuss the intricate details of your project (the "good old fashioned" way of commerce and communication does have its place!).  However, if you need your quote or project fast, expedite the process by going online!
In an effort to make things easier for our clients and for our team, we have ramped up our online features and capabilities.
Get instant quotes and pricing
By using our online catalog, you can get instant pricing for various types of jobs in all quantities.  You can even save it for future reference.
Easily convert your quote into an order
We know much of the work we do requires collaboration. We understand that sometimes working directly with an Indigo Ink project manager (either via email, over the phone, or in person) is the best option. However, once you've settled on a quote with appropriate specs, you now have the opportunity to expedite the process by submitting the order online. It's simple…just "Click to Order Online" in the upper right of the quote pdf and you will be guided through a few final steps.
How does this help you? Submitting the order online saves time on the back end and will ensure that your order gets put into the production queue much faster.
Place your order online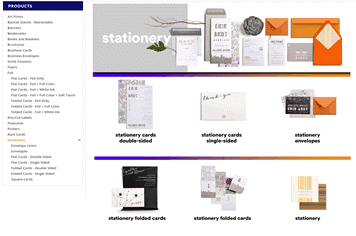 When you know what you want and need a simple way to get the order in fast with no fuss, you can order and upload files through our online catalog. An extensive menu of products allows users to find exactly what they need, review specs, and upload artwork. This is the quickest and most efficient way to get an order into our production queue.
If you don't see what you are looking for, no worries…we can still help. Just give us a call or email us directly.
Pay for invoices and manage your billing
You now have the convenience of accessing and managing your account information. You can access invoices and pay online by clicking on the credit card icon.

(note: if you don't see the order you are looking for, be sure that the drop-down menu in the upper right corner is set to "All Orders")
Quickly re-order

Do you find yourself repeatedly ordering the same items? You can save time by re-ordering a previous job. To do this, simply log into your account, click "view orders," select the order number you are interested in, and click "re-order."
Need to update or replace the file? No worries. The system will prompt you to verify the existing artwork or re-load new artwork.
We believe a combination of technology, automation, teamwork and human collaboration produces the best results. We hope this bit of technology will enhance and simplify your print-buying experience with us.
Visit our online catalog and access account management features here:
https://indigoinkprint.presswise.com/catalog/
If you are a current client and do not know your username (to ensure you are linked up to your account information), email order@indigoinkprint.com or give us a call 410-715-9071.